***I've been trying to post for over a week now***
What a wondrous, lovely, busy life I lead, as a mama, wife, and SLP.
Can you believe that Elliott is 10 weeks old? I am so proud of my little boy. He was basically drugged for his entire 1st month, and is still hitting those milestones. Smiles and coos are welcome visions after our hospital journey.
I am anxiously awaiting Tuesday's appointment with Elliott's cardiologist. While Elliott appears to be flourishing externally, I really need to hear that things are also flourishing internally, as well. His last echo showed a but of blood behind the pericardium. Initial impressions indicated a leaky valve, but after further review, E's cardio decided it was dried blood that would reabsorb and is no cause for concern. I am hoping to hear that the thrombus has been reabsorbed, that the right ventricle shows growth, and that there is no indication of scar tissue build up around his rebuilt aortic arch. Feel free to hope with me.
I finally received my license. What a relief. You know, I am a hard worker, happy to stay late at work to get the job done. It is challenging to balance my work ethic with my mommy- ness. All day, I feel drawn to walk away and scoop up my sweet Elliott. That said, I am intent on doing the best job I can for the kiddoes at my Klein schools. It has been a complicated start of the academic year. Licensure delays placed immense stress on myself as well as those potentially affected. Thankfully, my license came through this week and, ultimately, no one had to cover my caseload. I love the kids and already have great stories to share (minus PHI, of course).
Mark will returns Saturday, and E and I couldn't be more excited! I hate this separation, but the truth is that we don't have a choice. E needs to be here, in close proximity to doctors, and Mark need to be there to keep our insurance so that we can "kinda" afford the doctors.
And now for the pictures: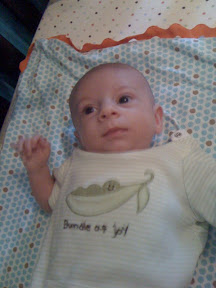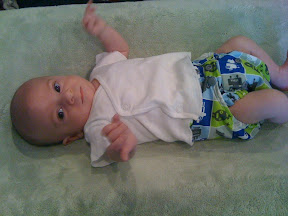 This is the outfit that Elliott wore for the car ride home. It was one if two newborn-sized outfits and he was swallowed up by it. Now, weighing in at a whopping 8 lbs 9oz, this is likely one of the last times he will wear it.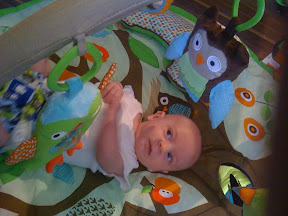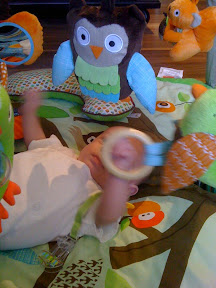 Look at that grip!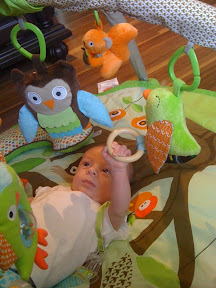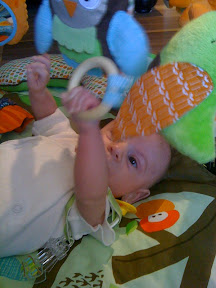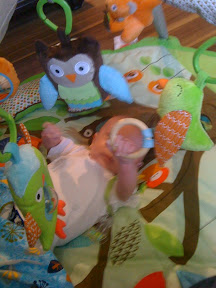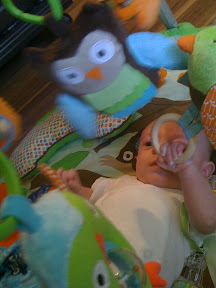 Hanging out with mama after work.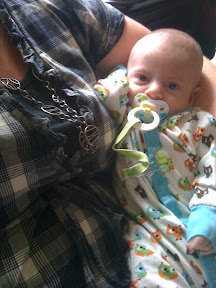 Morning dancing
Can you believe my cheeks are so plump, they hang over my car seat!
More morning smiles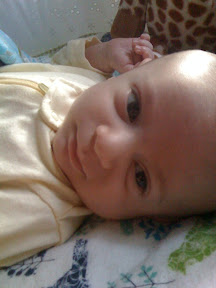 Upcoming sewing projects, I think Sofia (my machine) is under there somewhere...